Hey guys! I came up with a weapon for Lunais to use during her adventures through time and, after receiving input and criticism from a multitude of other people, I thought, "Gee, maybe I should get some input from the people who are actually going to be playing the game".
Please pardon my craptacular art skills as I present to you...
...Well, I actually haven't come up with a name yet.
Version 1:
I colored this version with the colors of an actual gun in mind. I didn't like how it turned out, so I decided to add some darker colors.
Version 2: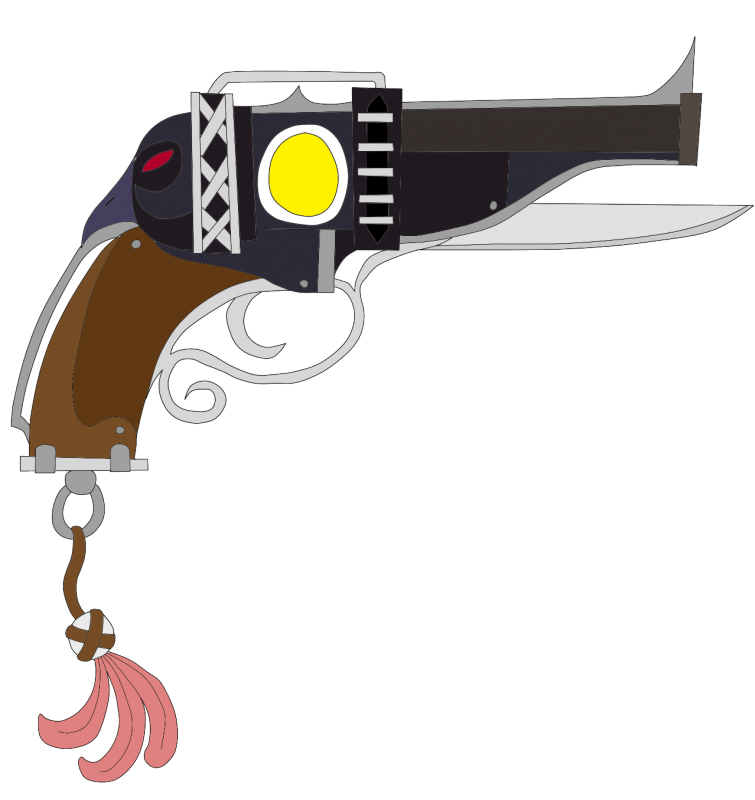 I figured, since the raven head near the handle of the gun, aside from the big yellow circle, is most likely one of the first things people are going to see (at least when it comes to the picture), perhaps the darker colors I should use ought to match the colors of the head. I decided to keep the handle the same colors as before since i liked the idea of it having a wood handle. However, I decided to make one last version.
Version 3: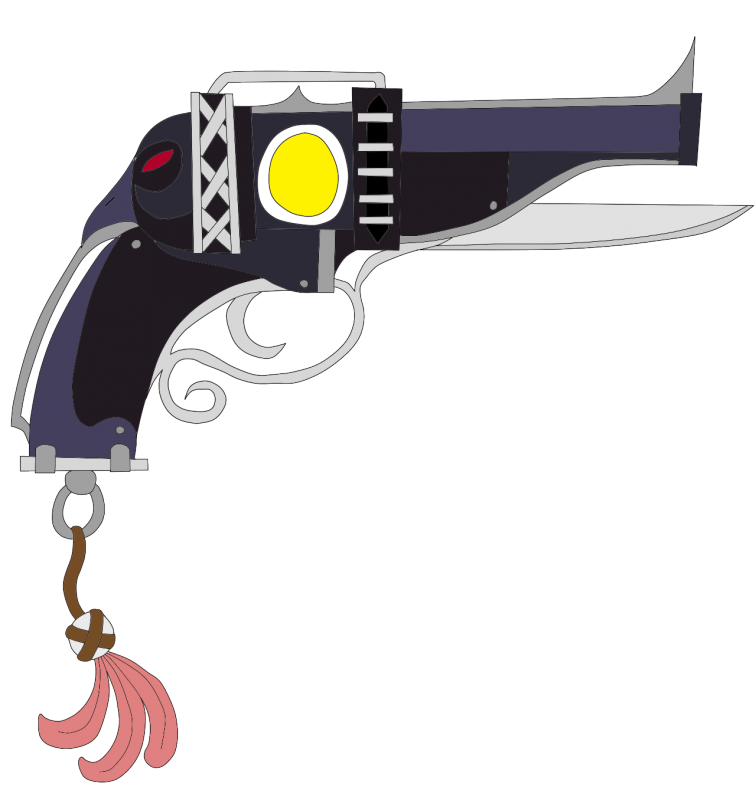 The only things really different between this one and Version 2 is the barrel being darker and the handle's colors now matching that of the rest of the gun.
Now then, you're all probably wondering by now what the bloody hell that yellow circle is. Well, that's the orb (yes, I know, big shock) and the reason it's placed where the chamber should be is because it is supposed to look like it's powering the gun. The raven head on the back is meant to signify that the gun is possibly a prototype for an imperial firearm, since they do use guns in the intro of the game. The charm on the handle contains both another reference to the empire (the feathers on the charm are ones that appear on the raven enemies in Lake Desolation) and a reference to an orb thought up by myself, Morningstar and Linestar (possibly a few others. Refer to the top post here for details:
viewtopic.php?f=11&t=17&start=10
).
So, tell me what you guys think. Do you like the idea? Which one is your favorite? If none, how do you think it should be colored? Is there part of the gun you think should be removed or maybe something should be added? Do you hate it altogether, think it's unfitting for a game like this, and think I should try designing something else? Lay it on me!